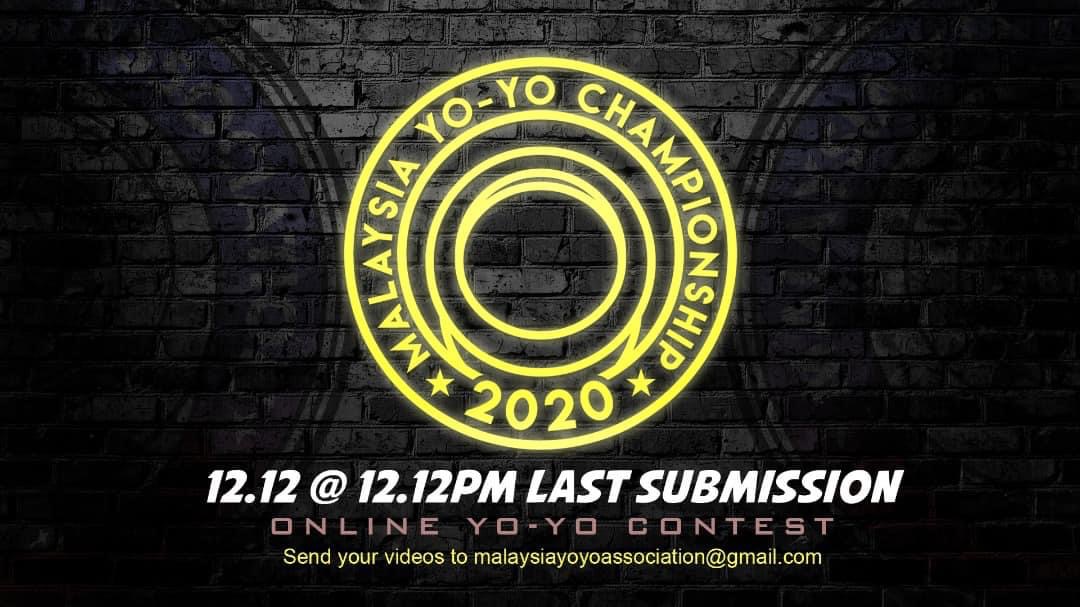 Let's make the best for the year of 2020 with the first ever Malaysia Yo-Yo Championship (ONLINE).
You will be crown the 2020 Malaysia Yo-Yo Champion!
This contest is a national contest, since it is ONLINE, no seeds will be provided to international contest.
RULES:
Judging 50 Tech, 50 Evaluation
All videos must be submitted by 12 December, 12:12pm
Videos to rename eg: 1A EWIN MYYC 2020
Player MUST wear a dark coloured shirt and string must be visible
Video must be ONE TAKE and not edited.
Video must start with player saying MYYC 2020 - Your name
Video must be in Landscape 16:9 Ratio
Music used must be 3mins and suitable for children (No Profanity)
WHO CAN JOIN?
Malaysian citizen, or
Those who reside in Malaysia, or
Those who have a Malaysian Passport but residing in other countries (he/she does not join any other national contest in the year 2020)
PROCESS:
Press record on your device
Say MYYC 2020 and your name
Turn on the MUSIC 3mins (should be as close to your recording device as possible)
Freestyle
DIVISIONS:
1A, 2A, 3A, 4A, 5A (All 3 minutes freestyle)
WHERE TO SUBMIT?
TIPS:
You may record as many times as possible to get the best freestyle, make sure submit early.
Avoid last minute submission (rejected video will now allow you to have the time to resubmit)
It will be great if your video is high quality
A plus point if you have a good black or dark backdrop
Music speaker should be placed nearest to your recording device
JUDGES:-
- Ahmad Dimi (Malaysia Yo-Yo Champion)
- Muhammad Shakeel (Malaysia Yo-Yo Champion)
- Ewin Ee (Malaysia Yo-Yo Champion)
- Edward Ng (World Yo-Yo Contest Official Judge)
SPONSORS:
Scores: